We started a new thing. We've thought about and talked about this idea for awhile, but finally said, "You know what, let's just try it and see how it works…and if it doesn't it's totally fine." And you know what? It worked! Even better than we imagined!
We decided to not only SHOW UP to the rehearsal dinner for Tyler and Lauren's wedding, and not only BRING A CAMERA, and not only GRAB A FEW SHOTS, but ALSO INCLUDE some footage in the final wedding highlight film!! And it turned out A-MA-ZING! We couldn't have chosen a better couple to try this out on, and we're thrilled with out it turned out.
So it was fun to hop around a bit and figure out angles for cameras. I love the shot on the right of Lauren holding her hands out trying to let them know she'll need plenty of room for her dress…without giving it away to Tyler! And she was right! With that beautiful cathedral train and veil, she stole the show!
When I do discover how grand the train of the wedding dress will be, I like to think about how to show it off on camera. I thought immediately that with a cathedral train and veil, the dramatic stained glass window, and that nice wide, long aisle…the perfect shot just fell in my lap. So of course it made the final cut!
The trickier problem was making sure all the cameras synced well with color in the room against the giant window in the middle of the stage! You can even notice the difference a few steps back made on my iPhone…the yellow tint vs. the blue tint…yikes! But it was a fun challenge and we really enjoyed shooting another wedding at St. John's Lutheran Church…not our first!
Then after the rehearsal at the church he headed back to a private estate for dinner, a few last words before the big day, and some good old fashioned hang out fun. I loved getting to know the bridal party and figuring out how I might incorporate this footage into Tyler and Lauren's film.
And my favorite part of the night was when Tyler grabbed a bat and headed out to the batting cage out back and took a few swings. For those of you who didn't catch on, Tyler used to play in Major League Baseball!
Fast-forward to wedding day prep time! Of course we had to tie in the baseball theme so we showcased the rings on the top of a baseball. Fit perfectly with our title, "Final Home Run" by the end of the edit! Then there's Mike and Adam outside, figuring how lighting for the shoes to make the bling shine.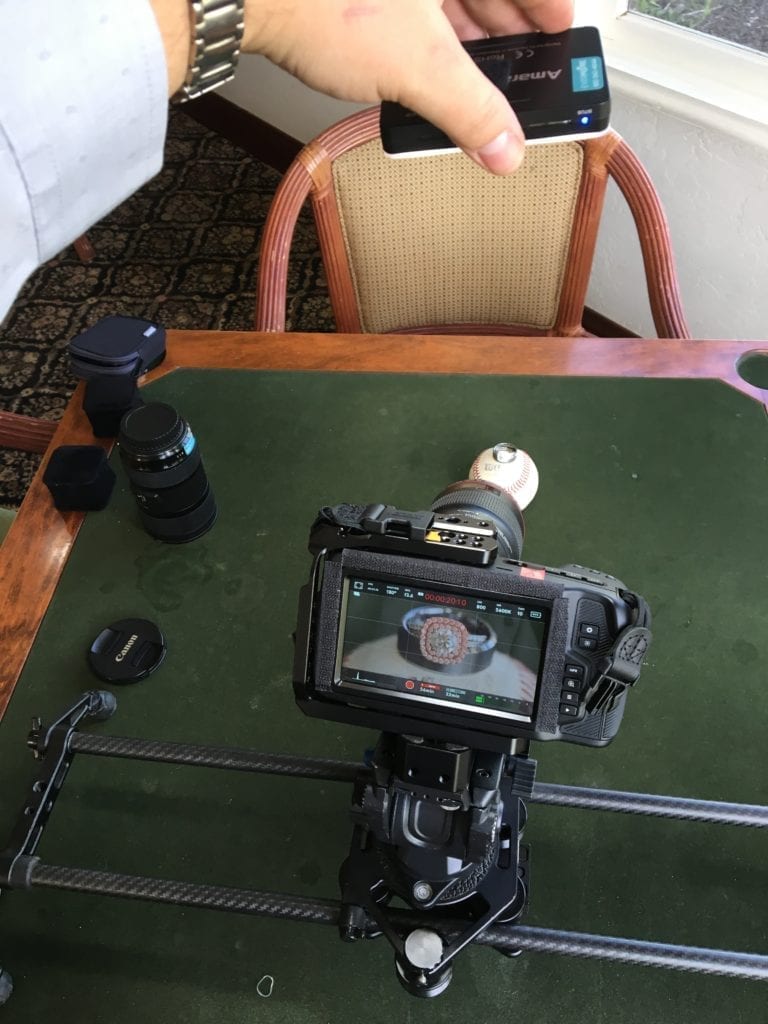 When you see the big red circle on the screen then you know it's recording. We ALWAYS ALWAYS ALWAYS watch for that big red circle during the ceremony…like every few minutes…or maybe seconds 😉 And when you see the orange spots all over the bride and groom then you know it's smack in focus. YESSSSS! Orange spots on a bride are a good sign on a wedding day…only for the videographer!
Loved having a three videographers for this wedding. No shortage of footage and it ensured we could have someone everywhere with such a large guest count!
But counting our drone guy, Brandon, we had a total crew of 4 for the day!
Taking advantage of plenty of time and golden hour! Never short on gorgeous places to shoot at Bakersfield Country Club.
And that wraps up the behind-the-scenes shots for Tyler and Lauren's wedding. Again, there's so much more to their story that we'll have to save for another time. Thanks for reading and being an Evermoore Fan!