(For best viewing, watch full screen!) 
Here at Evermoore, we can't say enough about how important family is. Ivan and Esther are one couple we've met who agree, and this made us a perfect match for filming their wedding! Their wedding day was special, but it wasn't the poofy gold and white dress that made it special (although that was fun!) and it wasn't the delicious tower cake (although that was really special too!) but it was the people. A wedding day is exciting and fun but without the family and friends you hold so dear…it wouldn't quite be the same. Ivan and Esther are excited for their new beginning together in joining their two families and with that we proudly present, "Un Nuevo Comienzo"…"A New Beginning."
It was a bright September morning and Esther was "getting all dolled up" by Itzel from Ilashdolls Makeup. The room was already bustling with family and friends and several cute flower girls – watching with big eyes all that was taking place. Danielle had put the final touches of perfect curls on Esther along with a glittering tiara and she was getting closer and closer to being ready for her special day. Fairy Godmother Denise went hunting for the dress and found piles of petticoats labeled "Angel's Bridal" – all gold and white that was SURE to surprise the groom!
Ivan, on the other hand, didn't have quite so many accessories to prepare, but still made sure he looked as sharp as can be with his Friar Tux suit and tie and his fresh boutonniere from Cherry Blossom Bouquets. Thanks to Matinae Design Studio, all the guests knew exactly when and where to arrive and before long St. Mary's Roman Catholic Church of Taft, California was swarmed with guests from all over town who had at least one thing in common: they all knew and loved and supported Ivan and Esther and were happy that their wedding day had finally arrived! Reverend Serrano conducted the ceremony while Bryan from C&B Pictures was there capturing the special moments in photos alongside our Evermoore Films video crew.
As with every wedding ceremony, no matter how long or how short, it was over in a flash and guests were directed to drive to Hodel's Country Dining in Bakersfield for some heart-warming food and a whole lot of dancing! Between DJ Plyomix and 16-piece Banda Pierre Brava, there was plenty of music and fun to last the entire night if needed! Ivan and Esther cut their cake, clapped for the toasters, and danced their First Dance. No frowns, no tears, only happiness and smiles – this was a perfect day! And now…they will be able to go back and re-watch these precious moments day after day, month after month, and year after year. Ask them and they'll tell you – they were SO thankful they said yes to a wedding video and that they said yes to Evermoore Films!
CREDITS
CAST
Starring Actor: Ivan
Starring Actress: Esther
CREW
Producer: Evermoore Films
Cinematography: Joshua Moore & Ricardo Santoyo
Coordinator: Fairy Godmother A Wedding And Event Planning Company
Photography: C&B Pictures
DJ: DJ Plyomix
Officiant: Reverend Serrano
Live Music: Banda Pierre Brava
WARDROBE DEPARTMENT
Hair Stylist: Danielle
Makeup Artist: Ilashdolls Makeup
Dress Shop: Angel's Bridal
Tuxedos: Friar Tux

ART DEPARTMENT
Florist: Cherry Blossom Bouquets
Linens: Hodel's Country Dining
Invitations: Matinae Design Studio
Rentals: Hodel's Country Dining
CRAFT SERVICES
Catering: Hodel's Country Dining
Cake: Courtney
SET LOCATIONS
Ceremony Venue: St. Mary's Roman Catholic Church
Location: Taft, California
Reception Venue: Hodel's Country Dining – Liberty Hall
Location: Bakersfield, California
SOUNDTRACK
"Sly Stranger" by Stacey Randol courtesy of Soundstripe
Here are a few stills from the video above: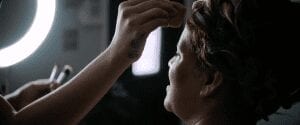 Evermoore Films is a video production company based in Bakersfield, California, providing cinematic wedding films and corporate promo videos to Kern County and beyond.