Can't wait to post this tomorrow so it's being released tonight!! Congrats to James and Tiffany on your wedding! Since we're still perfecting your video we thought we'd share a little taste of fun moments from your day while you wait…enjoy!
CREDITS
CAST
Starring Actor: James
Starring Actress: Tiffany
CREW
Wedding Filmmaker: Evermoore Films
Event Producer: Fairy Godmother a Wedding and Event Company
Photographer: Boone & Stacie Weddings
DJ: AllSound Music Entertainment
Officiant: Charles & Syliva Lack
Photo Booth: My Bakersfield Photo Booths
WARDROBE DEPARTMENT
Hair Stylist: Megan Houchin
Makeup Artist: Ilashdolls Makeup
Dress Brand: Sophia Tolli
Dress Shop: Enchanted Bridal Boutique
Suits: Finos Menswear
Alterations: Sew Elegant Bridal Veils & Alterations
Ring Shop: Jared The Galleria Of Jewelry
ART DEPARTMENT
Florist: House of Flowers
Rentals: Walker-Lewis Rents
Lighting: AllSound Music Entertainment
Linens: Walker-Lewis Rents
Stationary: Matinae Design Studio
Invitations: Matinae Design Studio
CRAFT SERVICES
Catering: NV Catering
Bakery: GhilaDolci Bakery
SET LOCATIONS
Preps Venue: The Padre Hotel
Wedding Venue: Noriega House
Location: Bakersfield, California
Here are a few stills from the video above: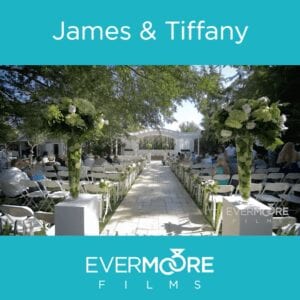 ---
Evermoore Films is a video production company based in Bakersfield, California, providing corporate promotional videos and cinematic wedding films to Kern County and beyond.