There's something so magical about love. It sneaks up on you, in all its beauty and elegance. It takes your breath away, holds it for a moment, and then brings it back in brilliance and passion. And for some, like Josh and Margaret, love comes as a surprise.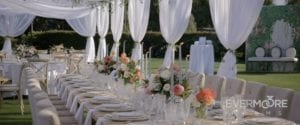 We know that love was "destined in time and space" for this couple, but at the time, the handsome guy 40 feet down the hall at SpaceX didn't catch Margaret's attention. It wasn't until the two happened to bump into each other in Paris, where his work conference and her vacation collided, that a spark ignited. And where there's a spark, there's sure to be fireworks later down the road!
Those fireworks came, and Josh and Margaret's wedding day was an absolute dream. Romance and vibrancy mingled with a gentle softness, and as Margaret swept down the aisle to her Prince Charming, you could almost hear her father's voice in the poem he had left for her before he passed away. "The bond is strong indeed" he had lovingly written, and now she had grown up and was entering into a new bond of love and commitment with this man standing before her.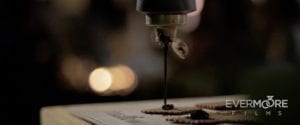 Because sometimes love is unscheduled. Sometimes it's an unexpected adventure. But it's always written in the stars. Congratulations, Mr. and Mrs. Brost! May your love ever be strong and ever true, and may you always have Paris to look back at and see where your story began!
FILM CREDITS
CAST

Starring Actor: Joshua
Starring Actress: Margaret
Best Man: Nick
Matrons of Honor: Lindsay, Leslie
Groomsmen: Shawn, Chris, Brian, Todd
Bridesmaids: Megan, Jessica, Misia, Kristin, Madeline
Ring Bearer: Henry
Flower Girls: Iris, Evelyn, Julin, Margaret
Father of the Groom: Jerry
Mother of the Bride: Cathy
Officiant: Congressman Kevin McCarthy
CREW
Film Producer: Evermoore Films
Film Director: Joshua Moore
Cinematographers: Joshua Moore, Robert DelTour, Christopher Sanchez
Film Editors: Christopher Sanchez, Joshua Moore
Colorist: Robert DelTour
Wedding Planner: Detailed Touch Events
Photographer: Mariel Hannah Photography
Ceremony Live Music: String Quartet with Paulette Shires
Reception Live Music: Lucky Devils Band
WARDROBE DEPARTMENT
Groom's Jeweler: Blue Nile
Bride's Jeweler: Shah & Shah Distinctive Jewelers
Tailor: Ted Baker
Dress Shop: Oscar De La Renta
Brides Dress Designer: Oscar De La Renta
Shoe Designer: Jimmy Choo
Hair Stylist: Alivia Daniels
Makeup Artist: Krystal McGee
Bridesmaid Dress Designer: BHLDN
ART DEPARTMENT
Decor Designer: Detailed Touch Events
Florist: Birchwood Floral Designs
Rentals: Walker-Lewis Rents, Revelry Event Designers
Lighting: Freestyle Event Services
Invitations: Matinae Designs
Stationery: Matinae Designs
Signs: Nanette Art + Design
Guestbook: Artifact Uprising
Photo Wall Backdrop: Nanette Art + Design
CRAFT SERVICES
Caterer: Stockdale Country Club
Bakery: GhilaDolci Bakery
S'mores Bar: Mallow Mallow
Bartender: Stockdale Country Club
LOCATION SERVICES
Preps Venue: The Padre
Wedding Venue: Stockdale Country Club
Venue Coordinator: Susan Greer
Security: Stockdale Country Club
Transportation: Limousine Scene
City: Bakersfield, CA
SOUNDTRACK

"Here to You" by Tyler Williams, courtesy of MusicBed
"Slow Dance" by Papercastles, courtesy of Soundstripe
"Bloom in the Dark" by Emorie, courtesy of Soundstripe
"Meant To Be" by Lion's Heart, courtesy of Soundstripe
"Look at Us Now" by Tim Halperin, courtesy of MusicBed
---
Evermoore Films is a video production company based in Bakersfield, California, providing corporate promotional videos and cinematic wedding films to Kern County and beyond.