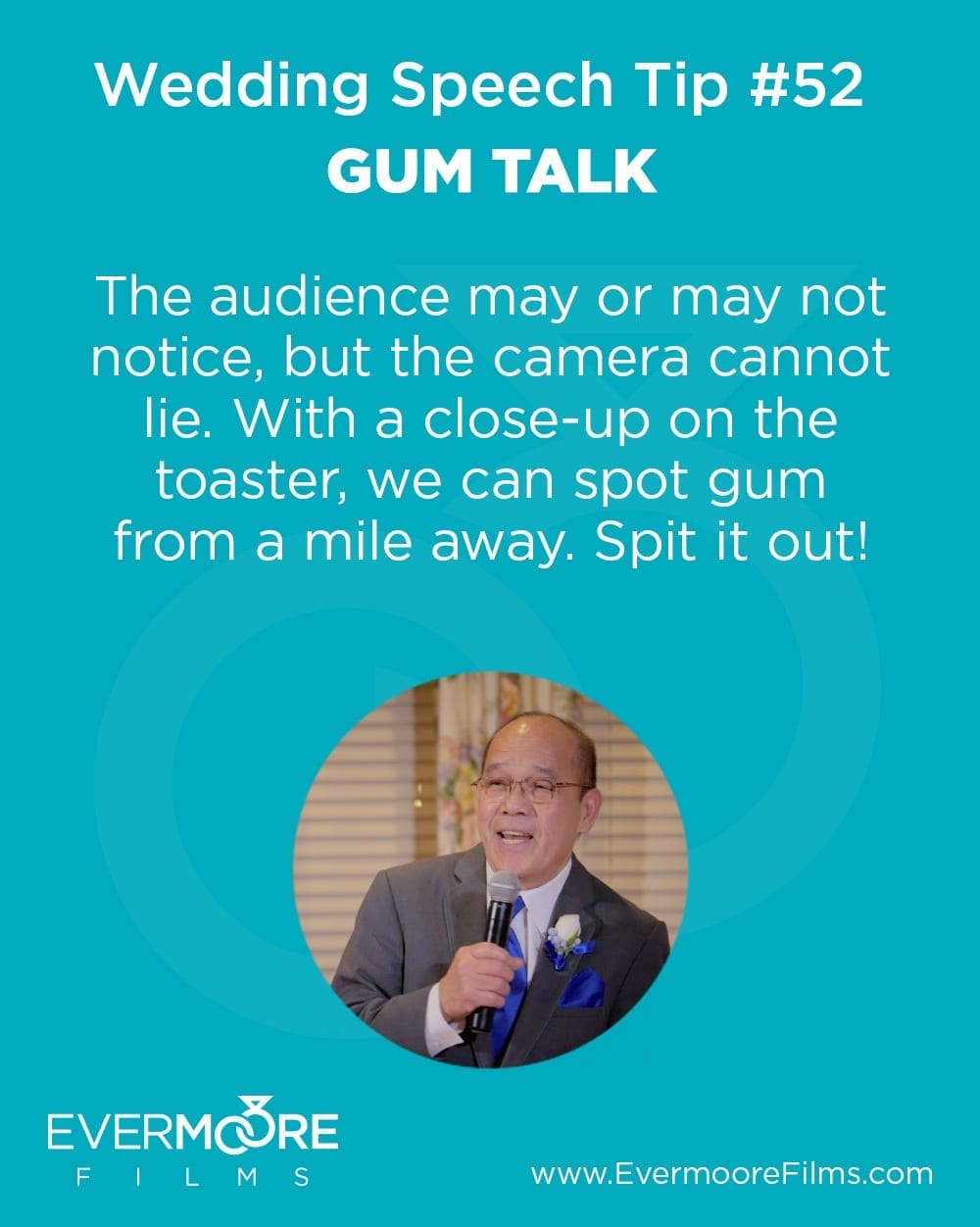 Now gum at a wedding isn't all that bad, and as a speaker clean breath is refreshing. However, as you step up to the microphone,the tables turn and you'll want that gum out of sight and out of mouth. Get rid of gum or chew up that mint before you open your mouth to toast. David and Bess were happy to have well prepared speakers at their wedding reception none of which chomped on gum during their toasts. Enjoy these clips from their speeches and more!
CREDITS
CAST
Starring Actor: David
Starring Actress: Bess
CREW
Stunt Doubles: Jayden, Margux
Best Man: Christopher
Maid of Honor: Estrella
Bridal Party: Joshua, David, Monica, Rebekah, Jenna
Producer: Evermoore Films
Cinematography: Joshua & Emily Moore
Officiant: Monsignor Sanchez
Wedding Planner: Fairy Godmother A Wedding And Event Planning Company
Photographer: The Photege
Photo Booth: Viral Photo Booth
Transportation: Limousine Scene
DJ: Aaron's DJ Services
Catering: Seven Oaks Country Club
Cake Designer: Tastries
Floral Design: Elegance in Bloom
Invitations: The Rainbow Colors – Etsy
Tuxedos: Friar Tux
Bridal Dress: LA Sposa – Lovella Bridal 
Hair Stylist: Kiko Agency
Makeup Artist: Kiko Agency
SET LOCATIONS
Preparations: Doubletree Hotel
Ceremony Venue: St. Philip the Apostle Catholic Church
Reception Venue: Seven Oaks Country Club
SOUNDTRACK
Music License: "Easer As Us" (Acoustic) by Michael McEachern from Song Freedom
"Easer As Us" (Acoustic) Inst by Michael McEachern from Song Freedom
"Brighter" (Inst) by FM Pilots from Song Freedom
Evermoore Films is a video production company based in Bakersfield, California, providing cinematic wedding films and corporate promo videos to Kern County and beyond.