"What We've Always Wanted" is a sweet wedding story about a bride, Hazel, and her groom, Trystan, and how these two made a lifetime commitment to love and honor each other as husband and wife! Now in case you don't know Trystan and Hazel, these two are HUGE Disney fans…like he proposed at Disneyland on June 28th, 2016! Their engagement photos were themed after the movie "Up" and if I'm not mistaken that's where they headed there for their honeymoon as well! As it was said that night, Hazel married the man of her dreams, her favorite Disneyland buddy, and her one and only Prince Charming.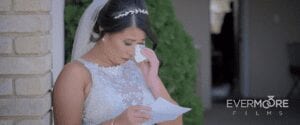 And Trystan was no less lucky, speechless at the thought that today was the day they were to be wed in matrimony forever. As he wrote in his last love letter to Hazel before the wedding ceremony, "I'm trying to find the words to say, but I find myself drowning in this symphony of love." Oh what hopeless romantics these two are! All day there were smiles and tears, smiles and tears, laughter and hugs and smiles and tears. Such a beautifully emotional day! Trystan and Hazel had waited eight whole years to this day and it was truly all that they had dreamed of, being united in marriage before friends and family in their own home church and celebrating afterwards with a beautiful meal and towers upon towers of donuts with cake, from surprise performances to sweet dances, the whole day was one to remember and we only hope that we captured a small part of this love-packed day with the trust sense of joy and happiness that surrounded everyone that day.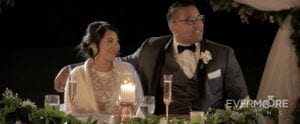 Seriously, we don't stamp a film complete until we ourselves get the goose-bumps and it doesn't take us long here – I mean, even the Father-Daughter First Look is just too precious and the day had hardly started! Poor Hazel tried her best not to smear her gorgeous makeup and somehow she succeeded, but that was no easy ordeal with all the love and joy and hope and excitement the day brought! And the wedding ceremony!! Not only did Trystan and Hazel get married in a grand church with chandeliers and a full choir, but their vows – oh, their vows – so precious, so meaningful, straight from the heart. You almost want to clap out loud as they are pronounced husband and wife! Enter the reception and the smiles couldn't be wiped from their faces even if they tried. Trystan and Hazel had a wonderful time celebrating and making special memories that we know will last them the rest of their life. We only hope we were able to contribute to their happiness by capturing these moments for them to watch and re-watch for many many years to come. Cheers to the newest Mr. and Mrs. Diaz! Congratulations and may your love grow stronger every day!
FILM CREDITS
CAST
Starring Actor: Trystan
Starring Actress: Hazel
Officiant: Brother Eduardo Javier 
CREW
Film Producer: Evermoore Films
Film Director: Joshua Moore
Cinematographers: Joshua Moore, Ricardo Santoyo
Production Assistant: Nick Tanaka
Film Editors:  Joshua Moore
Event Producer: Fairy Godmother
Lead Fairy: Marissa Blankenship
Photographer: Gwen Corona Photography
DJ Company: Freestyle Event Services
DJ: Mike Broida 
WARDROBE DEPARTMENT
Groom's Jeweler: Zales
Bride's Jeweler: Zales
Tailor: Friar Tux Shop
Dress Shop: Panache Bridal
Dress Designer: Maggie Sottero
Alterations Company: Panache Bridal
Shoe Designer: Badgley Mischka
Hair Stylist: Alivia Daniels & Jana Maes
Makeup Artist: Alivia Daniels & Jana Maes
ART DEPARTMENT
Decor Designer: Marissa Blankenship
Florist: House of Flowers
Rentals: Walker-Lewis Rents
Linens: Walker-Lewis Rents
Invitations: Matinae Design Studio
Stationery & Signage: Matinae Design Studio
Greenery Wall: Make It Happen Events

CRAFT SERVICES
Catering: NV Catering
Bakery: Gimmee Some Sugar
Donuts: Krispy Kreme Doughnuts
SET LOCATIONS
Preps Venue: Hathaway Ranch
Ceremony Venue: Church of Christ
Reception Venue: Hathaway Ranch
Transportation: Virk Limousine Services & Entourage Limousine
Location: Bakersfield, California
SOUNDTRACK
"I Get To Love You" by Ruelle courtesy of MusicBed
"Forest Fire" by Jessie Villa courtesy of Soundstripe
---
Evermoore Films is a video production company based in Bakersfield, California, providing corporate promotional videos and cinematic wedding films to Kern County and beyond.