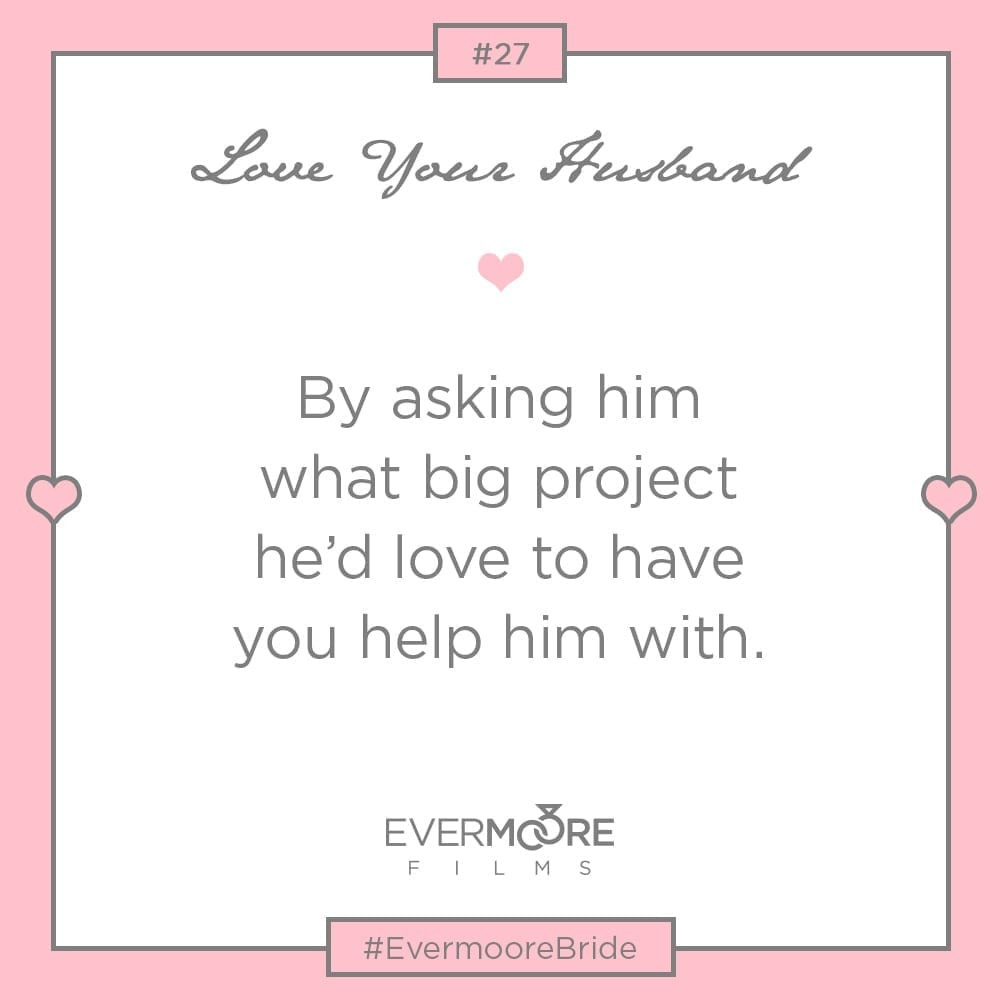 Learning to work together…
Maybe tonight or maybe this Saturday is the time to work on HIS project. As women we've always got a running to do list that only gets bigger and hardly ever gets smaller, but he's got ideas and lists too! Instead of asking for help on one of YOUR ideas or projects, give him a no-strings-attached offer to help with one of his projects. Of course…it's got to be HIS idea and HIS decision…not you coming in and saying, "Oh honey, I know you need help with this project and here let me fix it for you MY way." Nope. Instead, flip the tables and ask HIM to be the leader and to tell you which project he wants help with and asking him what HE wants you to do to help. You'll be rewarded more than you can imagine!
Bride Tip Series
This tip is part of our Bride Tip series, which encourages newlywed brides to love their husbands more every day. Follow the series for more bride tips! Stay connected through Instagram or Facebook and watch for our full wedding tip series!
More About Evermoore Films
Evermoore Films is a wedding videography company that has been offering cinematic wedding videos since 2012. Our studio is located in Bakersfield, California and has served 150+ couples while maintaining all 5 star reviews. As full-time wedding videographers we are known for our romantic and emotional custom films, but offer a wide range of videography packages from affordable to luxury.
Have more questions about a wedding video? Check out these popular FAQs, browse our FREE wedding tips, watch a few sample films, search for your favorite wedding song, or get instant access to our current pricing. We would love to talk with you about your own wedding, so contact us today to check our availability for your date!
Love the Evermoore style and want to stay in touch? Visit our Instagram to stay up on the latest news, watch our films and share them on Facebook, or binge watch our playlists on YouTube to get ideas and inspiration for your own wedding!