Joseph and Katherine are one of those "perfect couples" who, you can just tell, are meant to be together. In the short time that we got to know them and follow them throughout their wedding day, we had no doubt that this marriage was going to be a happy one!
Katherine and her many maids were getting ready for the day with Carleen and Morgan doing hair and makeup for all the lovely ladies. Carolyn from CJ's Greenery stopped by to deliver the most fragrant flowers you could imagine – just pure parfum! It was a happy day for sure – not a tear in sight and plenty of smiles to go around. Joseph and the men were shining their shoes and dawning their jackets for the formal ceremony ahead and everyone was counting down the hours, then the minutes that the two love birds would meet at the altar to become husband and wife!
Wedding Planner, Katie Camp, checked on the soon-to-be newlyweds and made sure everyone was looking tip-top perfect for the First Look and pre-ceremony photos. With the bridal party hiding inside the house, Joseph and Katherine walked around a corner to meet each other and steal a kiss or two! From that point on, the groom couldn't stop grinning and we knew knew these two were in love.
It wasn't long before Father Perry from St. Elizabeth Ann Seaton Catholic Church wed the bride and groom, and they were officially declared Mr. and Mrs! Katherine wore a beautiful gown from Ladies & Gents while Joseph wore a handsome suit from Men's Wearhouse. Family photos and limousine ride and they were already arriving at the reception. Live band music was provided by Davez Not Here and they kept the dance floor full all the night long. A delicious spread of dinner was provided by Moo Creamery as well as a beautiful cake and an assortment of other sweets.
And to think – almost all of that was captured on film! Evermoore Films was thankful to be part of these spectacular day – a day to be remembered (through film) for a lifetime and beyond! As Joseph lovingly promised Katherine in his love letter, "You've got me by your side for all of our adventures to come." We look forward to seeing Joseph and Katherine by each other's sides for the rest of their lives as they grow in love for each other more every day!
CREDITS
CAST
Starring Actor: Joseph
Starring Actress: Katherine
CREW
Producer: Evermoore Films
Cinematography: Joshua & Emily Moore
Wedding Planner: Katie Camp Soiree 
Photography: Carissa from Carissa Cady Photography and Kayla from California Creative Photography
DJ: Davez Not Here
Officiant: Father Perry
Rentals: Walker-Lewis Rents
Transportation: Limousine Scene
Catering: Moo Creamery
Cake: Moo Creamery
Floral Design: CJ's Greenery
Tuxedos: Men's Wearhouse 
Bridal Dress: Ladies & Gents Bridal
Jeweler: American Jewelry Company & Roco's Jewelry
Hair Stylist: Hair by Carleen
Makeup Artist: Morgan Devaney
Invitations: Wedding Paper Divas
SET LOCATIONS
Ceremony Venue: St. Elizabeth Ann Seton Catholic Church of Bakersfield
Reception Venue: Private Residence
Location: Bakersfield, California
Here are some stills from the video above: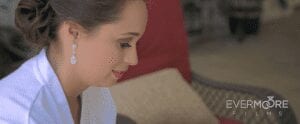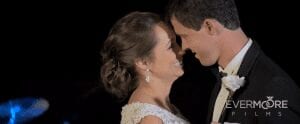 Evermoore Films is a video production company based in Bakersfield, California, providing corporate promo videos and cinematic wedding films to Kern County and beyond.