Now, if ever a bride was as organized as could be, Catherine could win an award! We knew from the moment we met Nick and Catherine that this was going to be a wonderful wedding: beautiful, organized, and fun! Then when we showed up on the morning of June 10th, 2017 at Spanish Oaks Ranch then we REALLY knew this was going to be a gorgeous wedding! If you've never been out to Spanish Oaks Ranch we highly recommend you check it out. Custom designed specifically for weddings, this venue is family owned and operated and is one of the friendliest places you will ever go infofurmanner.de! Jamie Jespersen was not only Catherine's venue coordinator but complete wedding planner as well, and we think she did an amazing job executing a fantastic wedding!
Catherine and the girls were already there when we arrived, hiding away in the loft of the barn, getting hair and makeup done with Paso Robles Wedding Stylist. It was such a fun atmosphere of excitement, nerves, laughter, and oh so many gifts – everything was planned to the "T". Catherine even had scrabble letters all set for us to use for the ring shot! There was almost nothing that wasn't planned out! Nick and his groomsmen soon arrived and they got ready, passed out gifts as well, and had a great time in the last few hours before Nick was to be a married man for life.
Some of the other little surprises that Nick and Catherine had planned for their big day included monogramed TOMS shoes customized just for the bride, themed toasting glasses for the bridesmaids, as well as signs for a photo to say how they met the bride. But it didn't stop there! Catherine had custom cufflinks for her dad with a photo of the two of them, name embroidered tote bags with goodies inside for the girls besides matching floral robes for getting ready, and coordinating love letters (such a cute idea!) that formed a tree when put side by side! Nick even had custom socks for his groomsmen so they didn't feel left out. 🙂 We enjoyed working alongside Ken Kienow to capture all the details and always love to see how the photos and video complement each other to tell the full story of the day.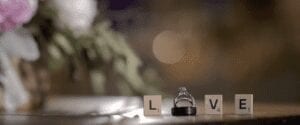 Within just a few hours mom helped Catherine into her Maggie Sottero gown, and the girls whisked her away for her First Look with Nick! With her gorgeous bouquet from Fluidbloom Designs, Catherine looked stunning, and Nick couldn't have been more proud. Photo time, hide the bride again, cue the string quartet, and the ceremony had begun. Vows were exchanged and Andy Morris Entertainment kept the ceremony fun and lighthearted and after their first kiss as husband and wife sent them down the aisle, and it was official! Ken showed us the gorgeous field at sunset, and after a few more romantic shots at golden hour, the couple was ready for their Grand Entrance to their wedding reception.
Stein's BBQ provided a delicious meal for the guests (with gluten free options too!) while Arroyo Grand Bakery and Sweet Surrender provided the goodies. Oh, and did we mention the countless hand-calligraphied signs by Restoration Ambition or the cute stationery by Fete and Quill? Be sure to watch the credits for the full list of vendors – everyone had an important role to play, and everyone did an amazing job of execution to make this wedding day memorable for the bride and groom. Nick and Catherine, we can see by the smiles on your faces that you have found your one and only match, and we wish you the very best of many happy years together! Congratulations again!! 
FILM CREDITS
CAST
Starring Actor: Nick
Starring Actress: Catherine
Officiant: Andy Morris Entertainment
CREW
Film Producer: Evermoore Films
Film Director: Joshua Moore
Cinematographers: Joshua & Emily Moore
Film Editors: John Hamlin & Joshua Moore
Wedding Coordinator: Jamie Jespersen
Photographer: Ken Kienow Photography
Photo Booth: Ken Kienow Photography
DJ: Andy Morris Entertainment
Ceremony Live Music: Candlelight Strings
WARDROBE DEPARTMENT
Jeweler: American Jewelry Company
Tailor: Mr. Tuxedo
Dress Designer: Maggie Sottero
Dress Shop: A Heart's Desires Bridal
Seamstress: A Heart's Desires Bridal
Bride Jewelry: A Heart's Desires Bridal
Nail Salon: Essentials Spa et Beauté 
Hair Stylist: Paso Robles Wedding Stylist
Makeup Artist: Paso Robles Wedding Stylist
ART DEPARTMENT
Florist: Fluidbloom Designs
Rentals: SLO Party Rentals
Linens: SLO Party Rentals
Invitations: Wedding Paper Divas
Stationary: Fête & Quill
Signs: Restoration Ambition
CRAFT SERVICES
Catering: Stein's BBQ Catering
Bakery: Arroyo Grande Bakery
Other Sweets: Sweet Surrender
Bartender: Cork Mobile Bartending
SET LOCATIONS
Wedding Venue: Spanish Oaks Ranch
Venue Coordinator: Jamie Jespersen
Location: Santa Margarita, California

SOUNDTRACK
"This Love" by Tyler Williams Courtesy of Musicbed
"Somewhere Beautiful" by Katrina Stone Courtesy of Musicbed
---
Evermoore Films is a video production company based in Bakersfield, California, providing corporate promo videos and cinematic wedding films to Kern County and beyond.