Rolling green hills, picturesque wooden brides, ivy walls, and string lights for a romantic wedding?! What bride would say no!? The Links at RiverLakes Ranch offers just that. In fact, they've listed 10 great reasons why you should get married there–check them out at the link below!
In their own words: "Our clubhouse is a resort-style location beautifully decorated which will create a lasting impression for all of your guests but yet still fit within your budget. Your wedding and reception will be hosted in Country Club style with pristine views of the surrounding valley and golf course. Our event Coordinator, Cathy Frampton, and her experienced team will help you plan and arrange your event, taking care of every detail to ensure your special day is successful.  Relax and be assured that everything will be taken care of in a most professional manner. We treat all of our guests like members of our family.  We will make you feel right at home and do our very best to let you know how much we appreciate that you have chosen RiverLakes Ranch Golf Club to host your most special day."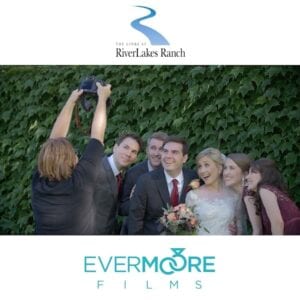 Call today: (661) 587-3810
More information at: http://riverlakesgc.com/weddings-and-banquets/
FILM CREDITS
CAST
Starring Actor: Jared
Starring Actress: Christine
Starring Vendor: The Links at RiverLakes Ranch
CREW
Film Producer: Evermoore Films​
Film Director: Joshua Moore
Cinematographer: Joshua Moore
Film Editor: Joshua Moore
LOCATION
Wedding Venue: The Links at RiverLakes Ranch
City: Bakersfield, California​
To see the full wedding highlight, visit https://www.evermoorefilms.com/my-love-is-true/ or watch below.
---
Evermoore Films is a video production company based in Bakersfield, California, providing cinematic wedding films and corporate promo videos to Kern County and beyond.