Simply Chic Events by Irma Green is a locally-owned wedding and event planning company. We always love working with Irma at weddings and seeing her design and management come to fruition!
In her own words: "From Shabby to Chic, Simply Shabby Chic will elegantly transform your special day!  As an award-winning wedding and event company, we strive to provide you with a personalized experience that focuses on who you and your fiance are as a couple.  Our unique approach to customized wedding planning, allows us to create a one-of-a-kind celebration that is infused with your unique personality, style and dreams. We specialize in chic weddings in Kern County, romantic winery weddings in Paso Robles, mini destination weddings any where in the country, fabulous celebrations in family private homes, and worldwide destination weddings.  Wherever the location, our fabulous team of planners is excited to help you bring your wedding vision to life!"
Find out more: http://www.simplyshabbychicrentals.com
Call today: (661) 205-2978
Email today: Igreen@bak.rr.com
To see the Short Film Highlight of James and Stefanie's wedding, CLICK HERE.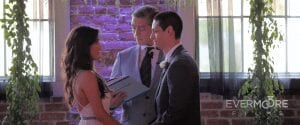 Here are a few stills from the spotlight video above: