Okay. I'm a sucker for wedding days. And I'm a sucker for wedding videos. And when I see the final draft of a wedding film go out to the bride and groom I've got to watch it and think about how they'll see it and feel for the first time. And this one–I've gotta tell ya–gave me goosebumps for like 2 minutes straight and then some, and then on the re-runs too!! Such love, such emotion, such sweetness. Oh how sweet Mauricio and Rubi are together and how excited they were for their wedding day! Such gentle and caring people who know how to have fun and make everyone feel included! They booked one of the biggest indoor venues in town so they could feed all their friends and family and so that no one would be left out!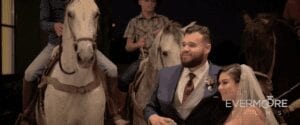 Rubi wrote in her sweet love letter to Moe, "God's timing is always perfect" and Moe wrote back, "You have and always will be a gift from God." Moe and Rubi met at Cal State Bakersfield and went on their first date to a Dodger's game and you know what – that was the most perfect timing possible for these two to start off their journey to be united, though they just didn't know it at the time 😉 Many of their friends and family look up to them in their example of a true love story, and it was so sweet to hear those who stood up at their wedding reception and affirmed that this truly was true love. You can just hear it in Rubi's sisters voice…such love, such care, such thankfulness for this relationship and so many people were so proud of who they'd become.
Relationships are a wonderful thing and when you can honestly say, like Rubi to Moe, "You have taught me to love and be loved" then you know there is something more than just special…there is something extra special, truly wonderful, and worth planning a wedding to celebrate!
FILM CREDITS
CAST
Starring Actor: Mauricio
Starring Actress: Rubi
Officiant: Father Miguel & Father Chummar
CREW
Film Producer: Evermoore Films
Film Director: Joshua Moore
Cinematographers: Joshua Moore
Film Editors: John Hamlin & Joshua Moore
Photographer: Laura Danielle Photography
DJ Company: Banda S3
DJ: Isidro
Reception Live Music: Mariachi Los Toros de Mexico

WARDROBE DEPARTMENT
Groom's Jeweler: Helzberg Diamonds
Bride's Jeweler: Helzberg Diamonds
Tailor: Fino's Menswear & Tuxedo
Dress Shop: Winnie Couture
Alterations Company: Sew Elegant Bridal Veils & Alterations
Seamstress: Mary Rita Nommensen
Bridesmaids Dress Shop: Ladies & Gents Bridal
Hair Stylist: Samantha Garcia
Makeup Artist: Salina Martinez
Nail Artist: Candice
ART DEPARTMENT
Decor Designer: Carlos Cabrera
Florist: Make It Happen Events
Rentals: Make It Happen Events
Linens: Paradise Palace
CRAFT SERVICES
Caterer: Martin's Meats
Baker: Aunt Graciela

SET LOCATIONS
Preps Venue: Padre Hotel
Ceremony Venue: St. Joseph Catholic Church
Reception Venue: Paradise Palace
Location: Bakersfield, California
SOUNDTRACK
"Believe (SVVN Remix)" by Secret Nation courtesy of MusicBed
"Infinity" by One Hundred Years courtesy of MusicBed
---
Evermoore Films is a video production company based in Bakersfield, California, providing corporate promotional videos and cinematic wedding films to Kern County and beyond.