The perfect idea with a fast deadline
This past month I had the pleasure of creating a TV commercial for Pearsey's Rentals furniture store in Bakersfield, CA. They came to me pretty much knowing what they wanted: a short and simple 30 second commercial that would help their community hear about what they have to offer. And they had a deadline of 1 week to get it on the air!
Understanding the power of video
What I loved about working with the guys from Pearsey's is that they already understood the power of video because they had been making multiple videos on their own—some simple, others more complicated, and some down-right funny with their own unique humor! They know that video gets people's' attention in today's world more than photos do. Don't get me wrong—there are plenty of places where photos are necessary and where a video can't help, but videos can be so much more effective when used in the right place at the right time. 
DIY + Professional = The perfect video plan
To my knowledge they don't plan on dropping their internal video production plan, and you know what I say to that? Go for it! Don't stop! They don't need us for very single video they make. In fact they should be making videos way more often than just when they hire us because A) they have the talent and B) they have the desire and C) their video marketing budget would have to be ridiculously high to afford us to come out weekly to film new content. 
However, with that said, they still hired me for a project. What project? A project that required a little more skill and speed than they could do themselves. They had a specific goal with this video that required them to take professionalism to top notch. In fact, we even rescheduled their shoot by one day so they could wait for their new custom polos to be ready! 
A step up…that was worth it
They were really happy with how the video footage turned out (especially since I brought gear that was better than what they had been working with) and how fast we were able to complete their video and get it back to them. It was more professional and faster than what they would have been able to produce all without costing them overtime out of work or home life to create. For this video it was worth it to just hire out and have it done! Daniel from Pearsey's said "This came out great! I love it!"
The video basics of this project
We took about two hours on location to film this commercial and were able to return it to them in 48 hours. They wrote a script and did an awesome job executing their lines with both passion and humor. We added logos, text, and an end screen with some basic contact info for their two locations. With an upbeat soundtrack and some fun humor, this simple commercial grabs the attention of its audience and offers several opportunities for a direct response from consumers.
Affordable, simple, professional
TV commercials aren't meant to last forever, so this video will get old eventually and it will be time to replace it, but until then, it's going to be fun to see how it helps their business grow and brings in new and old customers alike. Be on the lookout for our commercial for Pearsey's on TV and let us know if your business is ready to take video production to the next level. You'd be surprised how affordable a simple yet professional video like this can be!
Ready, set, watch!
To view this TV commercial we created for Pearsey's Rentals, check it out on their Facebook page and tell us what you think!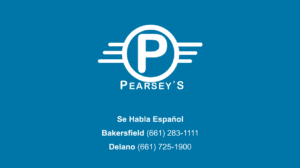 Further research
Looking for another sample of a TV commercial? Check out what we did for Garces Memorial High School.
Like the Evermoore style and thinking about a video for your business? Check out more of our corporate work.
Browse our video production work for local businesses through our YouTube Channel.