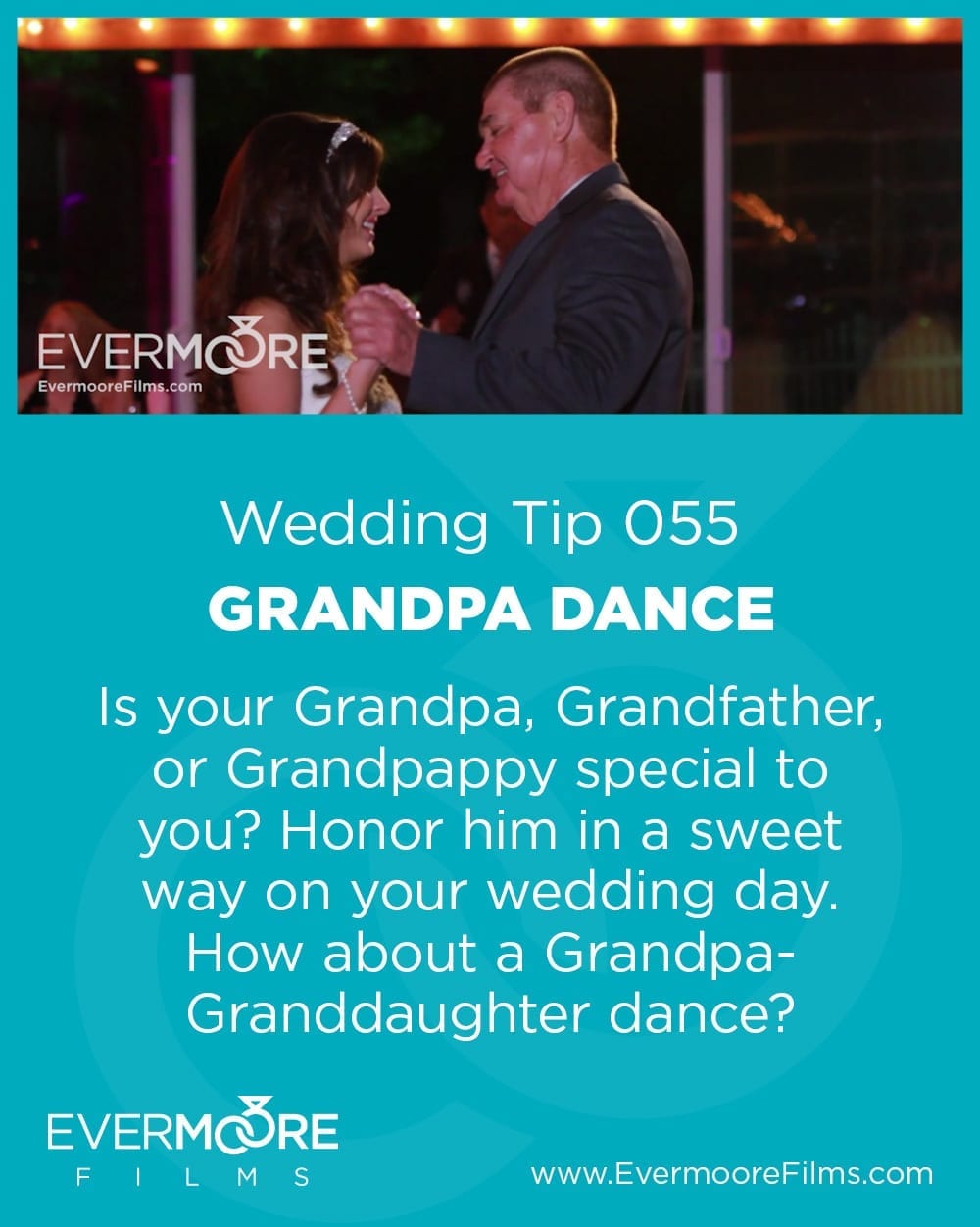 Dancing is an important part of the wedding reception. First, we have the First Dance, then there's the Father-Daughter Dance, the Mother-Son Dance, the Anniversary Dance, the Money Dance…etc. Some little girls practice their Father-Daughter Dance years before they even meet the man of their dreams. But there's another idea for girls who have a special relationship with their grandpa. We call it the Grandpa Dance…or Grandfather Dance, or Grandpappy Dance.
If you have a special relationship with someone that you want to honor, make a special dance with them. Pick their favorite song or pick a song that reminds you of them. Then years from now you'll be able to show your kids their great grandpa and what a special man he was. You never know how long these special people will be around so take advantage of every moment you can to make a special memory. What a sweeter way to say "I love you, Grandpa" than to honor him with a Grandpa-Granddaughter Dance on  your wedding day.
Jake and Brittany chose to do just that. Brittany wanted to have both her father and her grandfather walk her down the isle during the wedding ceremony, and she wanted to make sure they each got their own honorary dance. Watch the video below to see how Jake and Brittany incorporated the Grandfather-Grandaughter dance on their wedding day.
CREDITS
CAST
Groom: Jake
Bride: Brittany
CREW
Producer: Evermoore Films
Cinematographers: Joshua Moore & Roman Flores
Photography: Ashley dePencier Photography
DJ: AllSound Music Entertainment
Transportation: Bakersfield Carriages
Cake: Sweet Surrender
Catering: Cesar's Deli
Dress: Enchanted Bridal Boutique
Dress Alterations: Sew Elegant Bridal Viels & Alterations
Flowers: Elizabeth Bledseau
SET LOCATION
Venue: Park Place Special Events
Location: Shafter, California
SOUNDTRACK
"Tall Tales" by Human Pyramids courtesy of The Music Bed
Evermoore Films is a video production company based in Bakersfield, California, providing cinematic wedding films and corporate promo videos to Kern County and beyond.