Where Do I Start?
So you just got engaged and have already begun the hunt for wedding vendors. Maybe you're writing a list of friends who recently got married that you can ask opinions of or maybe you are overwhelmed with where to start, but the question keeps coming back to haunt you…"How do I find the right company to hire?" As with a wedding florist, a wedding venue, a wedding dress, or any other wedding vendor, the same question is true when searching for a wedding videographer. How do you find the right videographer for YOU?
Take our advice and hop on Wedding Wire. Type in the wedding vendor you're looking for in your area and hit go. We'll use wedding videographers as an example. So you search your area and find anywhere from 5-20 hits. Yikes, that's a lot to sift through and you have all the other vendors to research too! But at a second glance you realize, several companies are from out of town and are advertising in your area because they want to travel. If you're specifically looking for someone local, those companies are automatically ruled out which slims it down a bit.
Featured Companies
Then there's the whole "Featured" element which may or may not be helpful. As with any ad, those positions play the "pay your way to the top" game. Again, that doesn't mean they're evil (!), but it's just good to be aware of who's forking out extra to get in your face. It could mean a few things: they could be desperate for business, banking all their advertising dollars on this one hosting site, or a smart, successful company who's really good at what they do, popular, and produces awesome results again and again.
But it's good to be aware of who's who. Just because you're featured on Wedding Wire doesn't mean you're better than the other companies…and just because you're not featured doesn't mean you're worse than other companies. Actually, from a business standpoint a lot depends on how successful Wedding Wire is on helping connect brides to videographers and if that company thinks it's worth it to spend advertising dollars on them. But anyway…that's sidetracking!
A Free Search Engine
Our point is this: go to Wedding Wire. There's two ways to use this free wedding search engine.
1. Search Your Area
First, you can just use it to search videographers in your area. Type in your zip code and it spits out a list of people who are near you (or at least advertising near-ish to you). If you're looking for a wedding videographer in Bakersfield, CA you'll notice it also pulls up companies located in Fresno, Sanger, Clovis, Visalia, etc. because it's actually grabbing from the Central Valley, not just Bakersfield. That can be a good thing because it can broaden your horizons and open up options that aren't just the two companies down the street, but it can also be a bad thing because it might lead you to someone who charges an extra travel fee. However, if it's worth it and your budget can fluctuate a little, then sometimes a travel fee is worth it. But explore both options of those near and far.
2. Verify Credibility
The other way to use Wedding Wire is to verify that a company you're about to hire is legit. Now that you narrowed your choices down to one or two companies, whether that's wedding videographers or wedding photographers, hop back on Wedding Wire to check the reviews. See what people have to say about a company you're about to hire.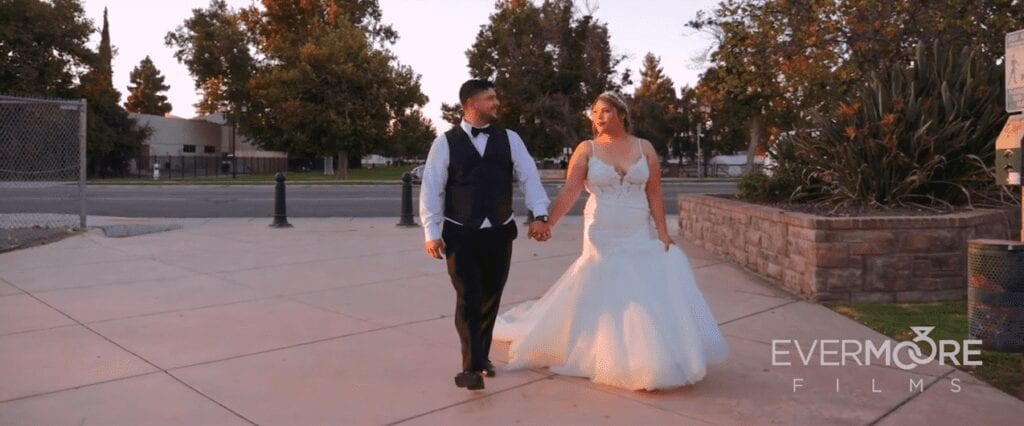 How to Use the Reviews to Your Advantage
Now it's important to know HOW to use Wedding Wire and how to get the most out of the information that's available.
1. Look at the star ratings
This one is obvious. If they have 1 star, stay away. If they have 5 stars, give them your attention. But if they have 4.8 or even 3.4 stars, give them a chance. Why? Because someone might have given an unfair rating…because they may have fixed whatever the problem was that the person complained about…and because every needs a chance to explain themselves. But if they have a bad review or two with a big red flag wagging, "Do not hire! Stay away! Don't trust them!" then take Wedding Wire's advice and look at someone else.
2. Look at how many reviews
Only a few reviews? Here may be a few reasons why:
It's a new company
It's an established company that just started a new profile
It's a bad company that no one wants to review because they don't have anything nice to say
It's an amazing company that's bad at getting their couples to review them
Everyone in life is too busy to write reviews
It's a great company that just isn't focused on getting reviews
I have no idea
Lots of reviews? Great! More info to pull from! No, you don't have to read every single one, but do browse and jump through a few. Scan them all and study a few.
3. Don't be scared by the most popular price
There's always a range that every company offers and if your budget is over or under, chances are they can accommodate you (I mean…within reason!). But don't rule out a company that lists too high or too low of a price. Let's be real. There are a million accounts to keep up with and as sole proprietor business owners, most wedding videographers aren't updating their information every week or month when things change. They may have gone up (or down!) in price, they may offer discounts for special situations, you may be able to convince THEM that they HAVE to film your wedding and should actually PAY YOU for the privilege to even attend (okay…maybe not so much, but still!). But bottom line is, it's just a number and a simple "Hey what are your CURRENT prices?" email may clear up or verify that info.
4. Look at most recent reviews
There's two reasons for this. First, when was the last time someone reviewed them? Last month or five years ago? That may give you a clue if they're still in business or not. And second, what is the quality of the most recent review? Was it a recent good experience or a recent bad experience? Is the company going uphill or downhill? Or are they all five star reviews with a stable company that's proving itself over and over?
5. Commit to just asking
It doesn't hurt to just request pricing, and Wedding Wire makes it super easy to find the big blue button! You're not committing to hiring them, you're just considering them. Best advice when asking?
You don't need to give out your last name. First name is just fine…unless you want to be extra nice. Seriously, though, they have no good reason to keep your last name if you don't hire them.
Give them an email address – your wedding email address! Don't have one? Set it up ASAP. You will be thankful you did when the wedding has passed and you don't have to get advertisements from random DJs who still don't know if you want to hire them or not. But yes, set up a separate email address just for wedding related things.
Put down your real date. Fake dates don't help anyone. If you haven't settled on a date, put something close…preferably not a Tuesday or they won't take you seriously!
Personalize a quick message. Just asking their price can get a little rude. Maybe think of one or two simple details from your wedding that you don't mind telling anyone and mention that in your message. For example, "My fiance and I love dogs and our golden retrievers are going to be our ring bearer and flower girl!" (True story!). But open the door to connect a little and see if they take the bait. If they're like "Eww I hate dogs!" then you know you won't be a good fit!
Respond! When they email you back a response and you know you can't afford them no way or you don't get the vibe you're a good fit, then at least let them know you're moving on so they don't keep bugging you with follow-up emails. Be courteous. They are real people too.
Review them! That brings us full circle! After you get married…go back and give them an honest review of your experience with them so other brides and grooms can be educated too!

Maritza's Review
And that leads us to Maritza's review. Robert and Maritza got married on August 18th, 2018 and got a stunning 16 minute film titled, "Algo Especial" or translated into English, "Something Special." We were thrilled they loved their video and were so excited to get this sweet, heartfelt review from Maritza within days…actually I think it was within hours…of releasing their highlight film online. We love the way she took the time to share her feelings, to make specific comments about how we impressed her, and of course her encouraging words that reassured her that she was in love with her video! All that hard work filming and editing paid off!
—
"We had a great experience working with such an amazing team"
Evermoore Films gave my husband and I "Something Special" (literally), a film we get to treasure forever. From the beginning I let them know my wedding film was very important to me. They did not let me down. I knew it was going to be good based on the work that I had seen… what I didn't know, was that they were going to surpass my expectations. I recently received my highlight film and I can't stop watching it. Crying never fails. I'm truly impressed with them. I highly recommend to book Evermoore for your special day. The entire process was very easy, professional, and organized. Josh was very helpful and flexible. My emails were always answered in an appropriate time. And let me get started with the quality of the film, it is incredibly breathtaking, along with clean, clear audio. The Evermoore team commits fully to their work. They don't show up to your event and just record. They honestly get to know you by setting up a couple meetings before the big day discussing what's important on the big day, what you like and don't like. I think that is why the film ends up being so well put together. They incorporate what's important to YOU, literally making a movie of your love story (Which includes giving your love story your own personal Title).These are the cute little details that make it so special. I relive the moment every time I watch my film and trust me if someone couldn't attend the wedding for whatever reason, watching the detailed film Evermoore creates, will make them feel like they were there. They will get to witness your special day, just as you remember it. We are now left with memories that we will cherish for the rest of our days.
Thank you Evermoore Team, you guys are greatly appreciated.
Robert & Maritza Torres 
August 18, 2018
Seriously, visit their website watch our video "Algo Especial" "Something Special" and you will be convinced.
—