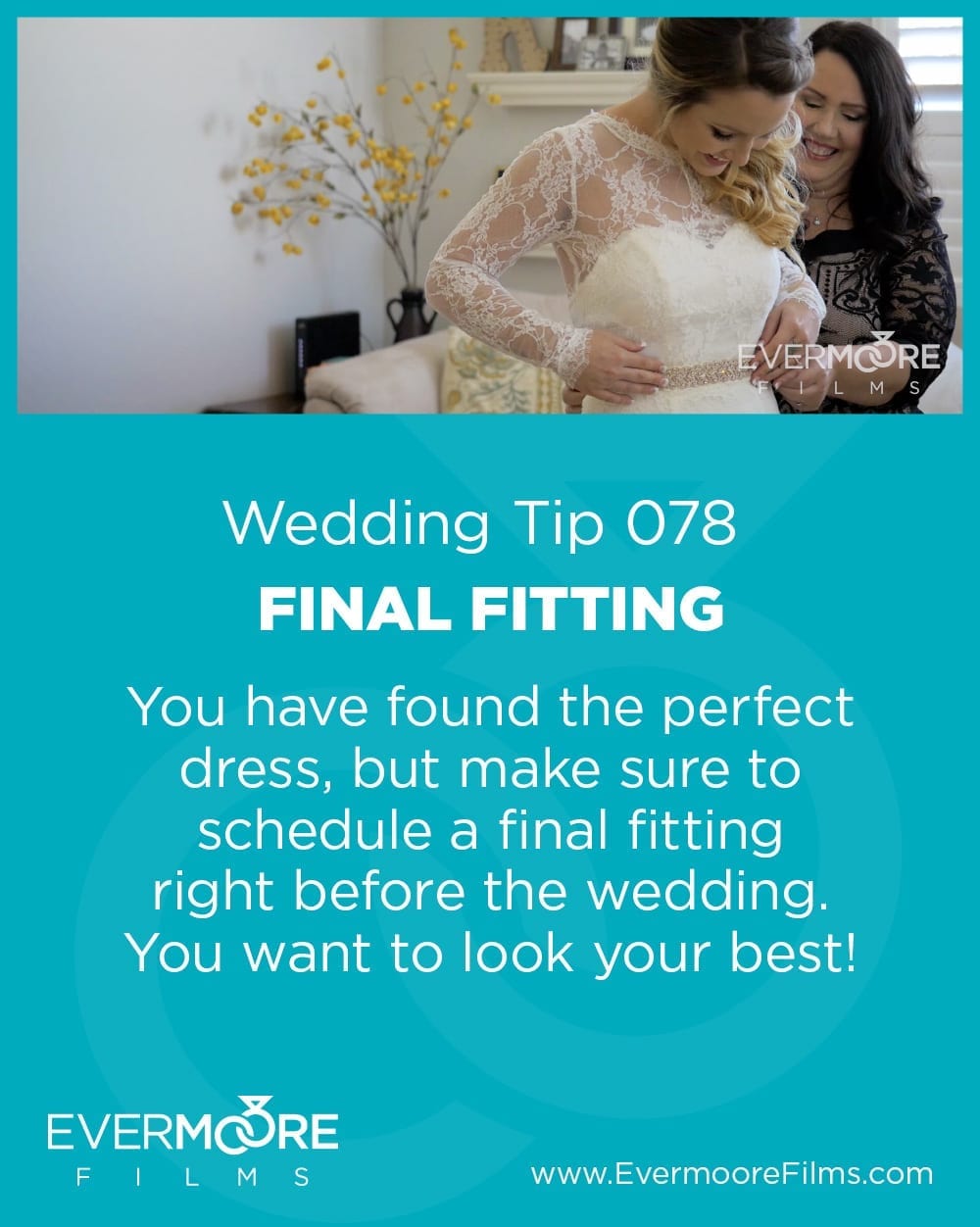 One of the first and most exciting appointments a newly engaged bride-to-be schedules is dress shopping! Finding the perfect dress for your wedding day is so fun, so important, and really starts setting the style of your wedding. Is it going to be a princess wedding? A romantic wedding? A boho chic wedding? A themed wedding like Beauty and the Beast or Disney in general? Is it going to be traditional? Modern? Vintage? Country? Oh the possibilities are endless, and going with your mother, mother-in-law, girlfriends, bridesmaids, and entire bridal entourage to the wedding dress shop is such a fun way to begin the wedding festivities! It starts with the dress, but don't forget it ends with the dress too! Unless you buy a dress straight off the shelf and take it somewhere else to be altered, you usually need to wait months until the dress is sewn and ready to be fitted. A minimum of one fitting is absolutely necessary, but most seamstresses recommend or require two or three! Keep in mind that the last few weeks and especially days before the wedding will be oh so full of all kinds of last minute details, decision, parties, and friends and family stopping by to say hello and send in gifts, so you'll need to be careful to guard some down-time for your final dress fitting besides time to keep sane and relax! Schedule the final fitting as close as possible to your wedding date, be sure to Sit Down and make sure the dress isn't too long (the front of the dress not touching the floor so you don't trip) and of course make sure that you can breathe! Looking for more advice about finding the perfect dress and what to do now that you've found it?
Call up some of our friends at local bridal shops and they'd be happy to help!
Or call Mary Rita at Sew Elegant and design your dress with her from scratch!
HillaryJane looked absolutely stunning in her dress – the perfect one that was just perfect for her! We know Roman agreed, as you can see in their wedding highlight film below…
FILM CREDITS
CAST
Starring Actor: Roman
Starring Actress: HillaryJane
CREW
Film Producer: Evermoore Films
Cinematographers: Joshua & Emily Moore
Film Editor: Joshua Moore
Coordinator: Sarah Zervis
Photography: Jonah & Lindsay Long
DJ: DJ Aslan
Officiant: Steve Swartz
Ceremony Prelude: Antoine Bradford
Ceremony Live Music: Darren Wiebe & Samuel Moore
Rentals: Best Party & Event Rentals
Catering: Hodel's Country Dining & Gutierrez Family
Cake: Tarryn
Floral Design: Staci Woodward
Fire Dancer: Bryan Sadler
Tuxedos: Men's Wearhouse
Bridal Dress: Galina – David's Bridal
Alterations: Sew Elegant Bridal Veils & Alterations
Jeweler: Jared The Galleria Of Jewelry
Bride Hair Stylist & Makeup Artist: Maribel – Serenity
Bridesmaids Hair & Makeup: Gillian Townsley & Brighton Prentice
LOCATION SERVICES
Venue: Private Residence
Location: Bakersfield, California
SOUNDTRACK
"Hand in Hand" by Shawn Williams from The Music Bed
"When I'm With You – Instrumental" by Analog Heart from The Music Bed
---
Evermoore Films is a video production company based in Bakersfield, California, providing corporate promo videos and cinematic wedding films to Kern County and beyond.